Our
Custom-Framing Services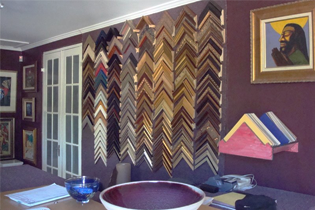 In addition to a vast collection of original Jamaican art from some of our most renowned local artists, Frame Centre Gallery offers a full custom picture, art, object (including apparel and memorabilia) and fine art framing. We specialize in custom picture framing to suit your needs. Our goal is to find the perfect frame-design to enhance your picture, art or family heirloom.
We use only the highest quality, superior materials to maximize the longevity of your piece. Our qualityof work stands the test-of-time. Below is a sample of some creative framing ideas that our talented designers and framers have created:

Our talented framer Matthew hard at work!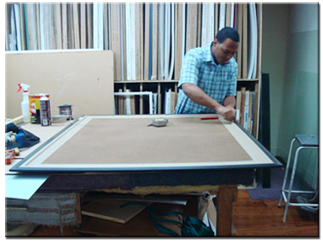 We at Frame Centre are accustomed to the challenges of framing that can arise. Don't worry about the size of your job we can handle it!
Memorabilia Framing Part I: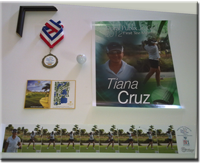 As shown here, the first step in memorabilia framing is developing a design that both meets the wishes of the customer as well as the specifications required in order to ensure the concept is operable.
Memorabilia Framing Part II: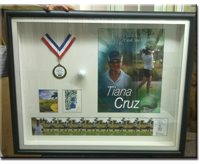 The finished product of the momorabilia is contained within a 'shadow-box'
Shadow-Box Framing:

Here's another example of shadow-box framing. Four separate minature pieces put together in one frame. Shadow-box framing is a unique and creative way to showpiece your special keepsakes.
T-shirts are a popular item our customers want framed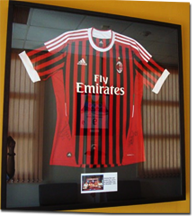 Commissioned work for Norman Manley International Airport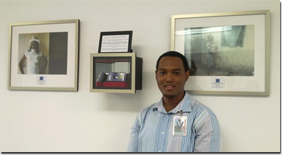 Some of our work framed and hung at Norman Manley International Airport, including a shadow-box frame of a camera, and 12 framed photos taken by 12 & 13 year olds commissioned by the European Union.