Jamaican Art: A Brief Overview
The history of Jamaican art has been one of unfolding vitality through the century to its present strength, versatility and power, offering a fascinating chronicle of nation building and a creative coming of age. Art in Jamaica is alive and well and available both in Galleries and on the highways and byways, you only have to look for it. The visual arts of Jamaica over the last two and a half centuries have captured – in a permanent and engaging form – the soul, the psyche and the visions of this beautiful island.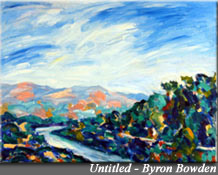 Roots
Since the sixteenth century, fine craftsmanship in wood, fiber, tortoise shell, and cloth came into being often of necessity.
Master craftsmen created fine Jamaican furniture from mahogany, carved combcases and ornaments in shell, and wove straw hats and baskets to decorate or carry produce to market. Itinerant artists from Europe added to this indigenous creativity with their many portraits of important colonial personalities or soft landscape of grand Jamaican estates. Today's artistic heritage with these deep roots has flowered. Currently there are hundreds of practicing artists, over thirty commercial galleries island-wide (14 of them in Kingston), a school for the visual arts – the Edna Manley College of the Visual and Performing Arts – and an impressive National Gallery in downtown Kingston.
The 20th century has seen the consolidation of the visual arts with pioneers like Edna Manley, Albert Huie, Ralph Campbell, Carl Abrahams, David Pottinger, John Dunkley and Henry Daley coming into prominence. Self-learned artists locally called "intuitive" artists, like John Dunkley worked on his own, producing a series of restrained "inner-shaped" paintings, which were unlike anything else seen locally. His fantastic flora and fauna was the by-product of a highly vivid and somber mind. On the other hand, artists like Edna Manley hailed as the "mother" of Jamaican art was responsible for drawing together, on her Drumblair veranda, the island's core of creative thinkers in the 1930's; poet George Campbell, artist Koren van der Harootian, writer and poet Rodger Mais all came together in lively creative intercourse.
The Contemporary Art Scene

Today an island wide trip will introduce the art seekers both to the many galleries with their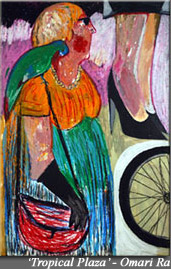 formal settings and carefully placed artwork, or to the roadside exhibits mostly featuring sculpture in the widest variety of Jamaican wood, cedar, lignum vitae, mahoe, coconut and many others.
The lush and brilliant landscape of this island has provedfor many of these artists a stimulus and starting point. Beautiful landscapes in watercolour, acrylic, and mixed media are to be found in every gallery – products of the brush of artists like George Rodney, Judy Macmillan, and Byron Bowden.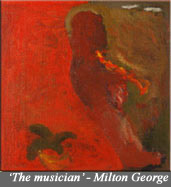 On the other hand, Jamaicans have always been passionately active in world issues and universal humanitarian causes. Many of the island's artists reflect, in a variety of styles, this concern with modern urban pressures and global social justice. Passionate andbold artworks convey these emotions – works by Milton George,Stanford Watson, David Boxer and Omari Ra. Surrealist artists like Colin Garland invite the viewer into a more whimsical personal environment.
Whatever they portray the many artists of Jamaica provide continuing delight and inspiration today, in the present flowering of the visual arts of this island.